The One-Piece Rest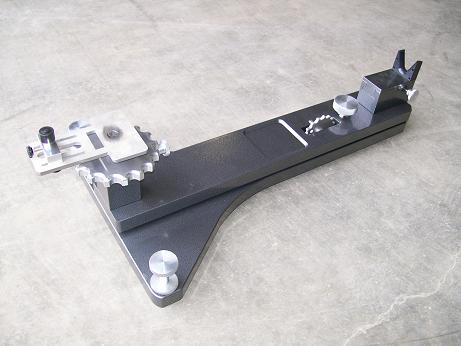 The One-Piece Rest (OPR) was, also, designed by Ken Fulghum, to fill the void of a "bag-less" rest. The whole of your rifle "rests" securely in the OPR with the help of adjustable slides on the rear of the rest.
One of the added benefits of the OPR is an ammunition tray in the center of the elevation/windage assembly.
Once again, precision is the key to the OPR's functionality. The OPR is machined mostly from aluminum with some steel and stainless steel parts for durability and weight. The elevation of the OPR is controlled two ways-a "rough" control and a "fine-tune" control. The roughing control is located directly below the "top" of the rest.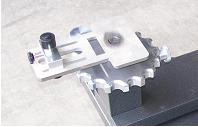 It is a custom threaded rod with a keyway (to keep the top timed to the rest) that adjusts by turning a "mariners" wheel. Once the elevation is "roughed" in, a small knob can lock this control.
The fine-tune control for elevation is also a custom chased-thread rod of stainless steel. The control is activated by turning a knurled knob near the rear of the rest. Again, inside of the threaded rod is a steel pin/ball bearing combination that "pushes" the sight picture down or "pulls" it up.
Windage is controlled by a smaller "mariners" wheel embedded upright on the assembly. Turning the wheel forward or back adjusts the rest to the left or right. This control is a tight tolerance direct drive mechanism.
The One-Piece Rest comes in a standard finish, at a cost of $750* (Price is for rest only, tops not included). Custom colors are available, at a nominal extra cost, as available from Randolph Powder Coating. Click HERE to see more views and some custom colors.
One-Piece Rest Movement Specifications
| Direction | Amount |
| --- | --- |
| Windage | 6 feet |
| Coarse Elevation | 10 feet |
| Fine Elevation | 3 feet |
All measurements are over 50 yards.
Disclaimer: Randolph Machine, Inc. warranties its products against defects in craftsmanship and material. However, we do not warranty normal wear and tear or abuse and neglect.

*Price subject to change without notice. Randolph Machine, Inc. accepts most major credit cards from the US only.